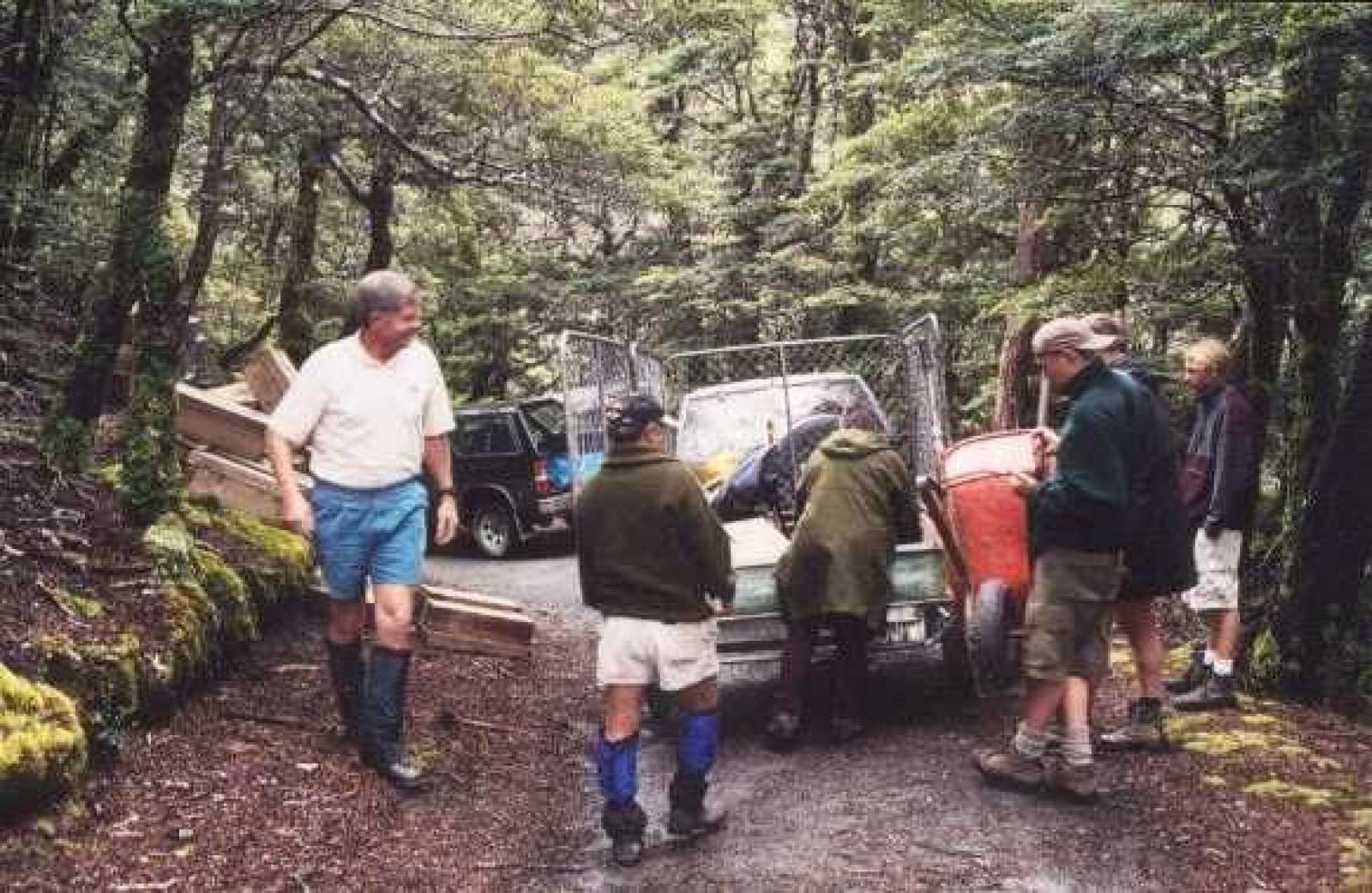 FOF volunteers laying out traps
Friends of Flora volunteers have undertaken predator control work for 14 years, with our trap lines now covering over 8,000 hectares. Currently we monitor 1125 stoat traps alongside DOC Motueka, many of these having rat and possum traps nearby.
Stoats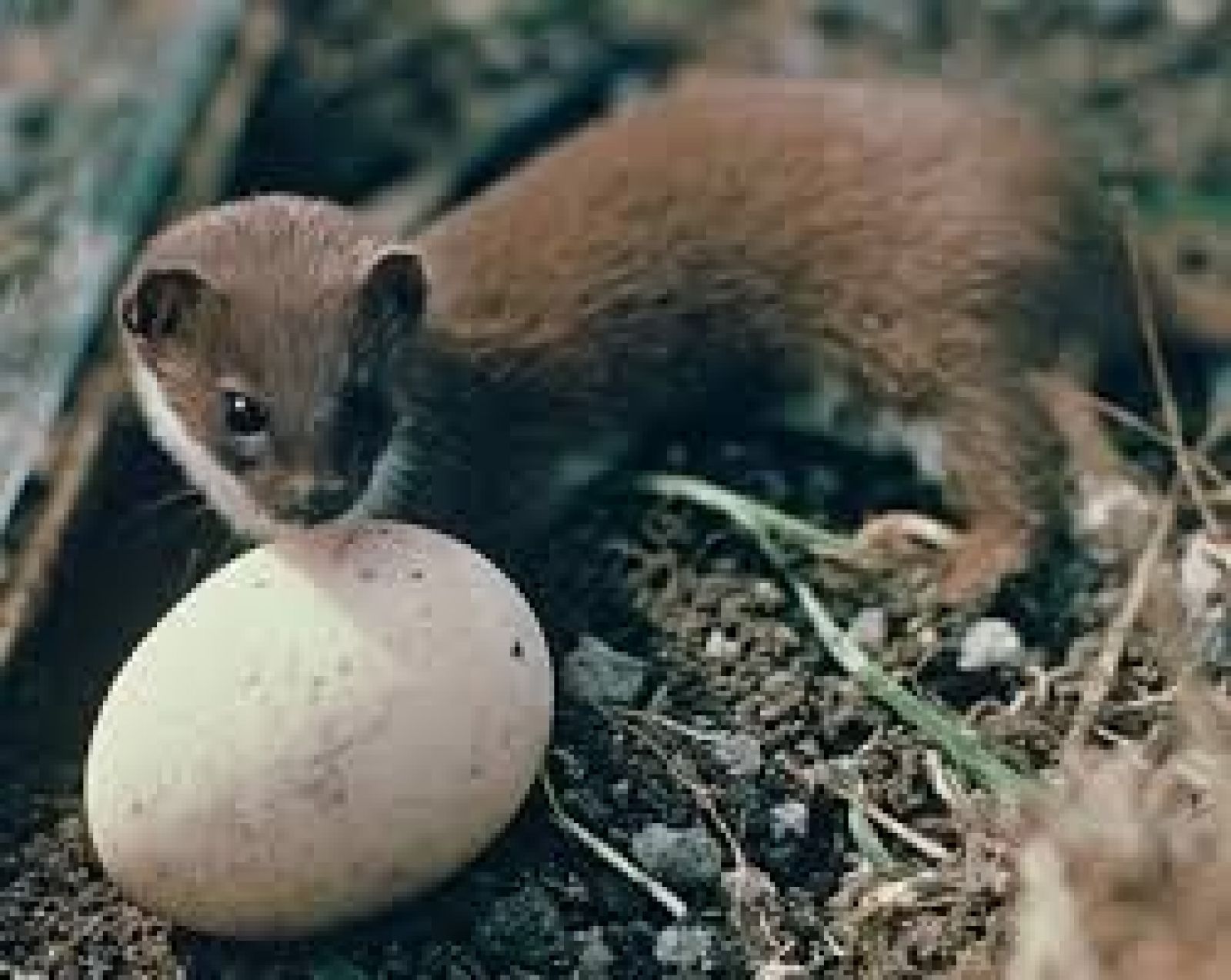 stoat
The stoat is a member of the mustelid family, along with weasels and ferrets. It was introduced to New Zealand late last century to control rabbits and hares. The introduction of stoats is commonly regarded as one of the worst mistakes ever made by European colonists in New Zealand. Stoats are now by far the most common of the mustelids and are widespread in our forests. Stoats are extremely agile climbers and have a devastating effect on native birds by preying on adult and young birds and raiding nests for eggs. At Kowhai Bush, Kaikoura, a two year study in the late 70s showed that mustelids, mostly stoats, had robbed over 50% of 149 nests of native and introduced birds.
Ship rats and Mice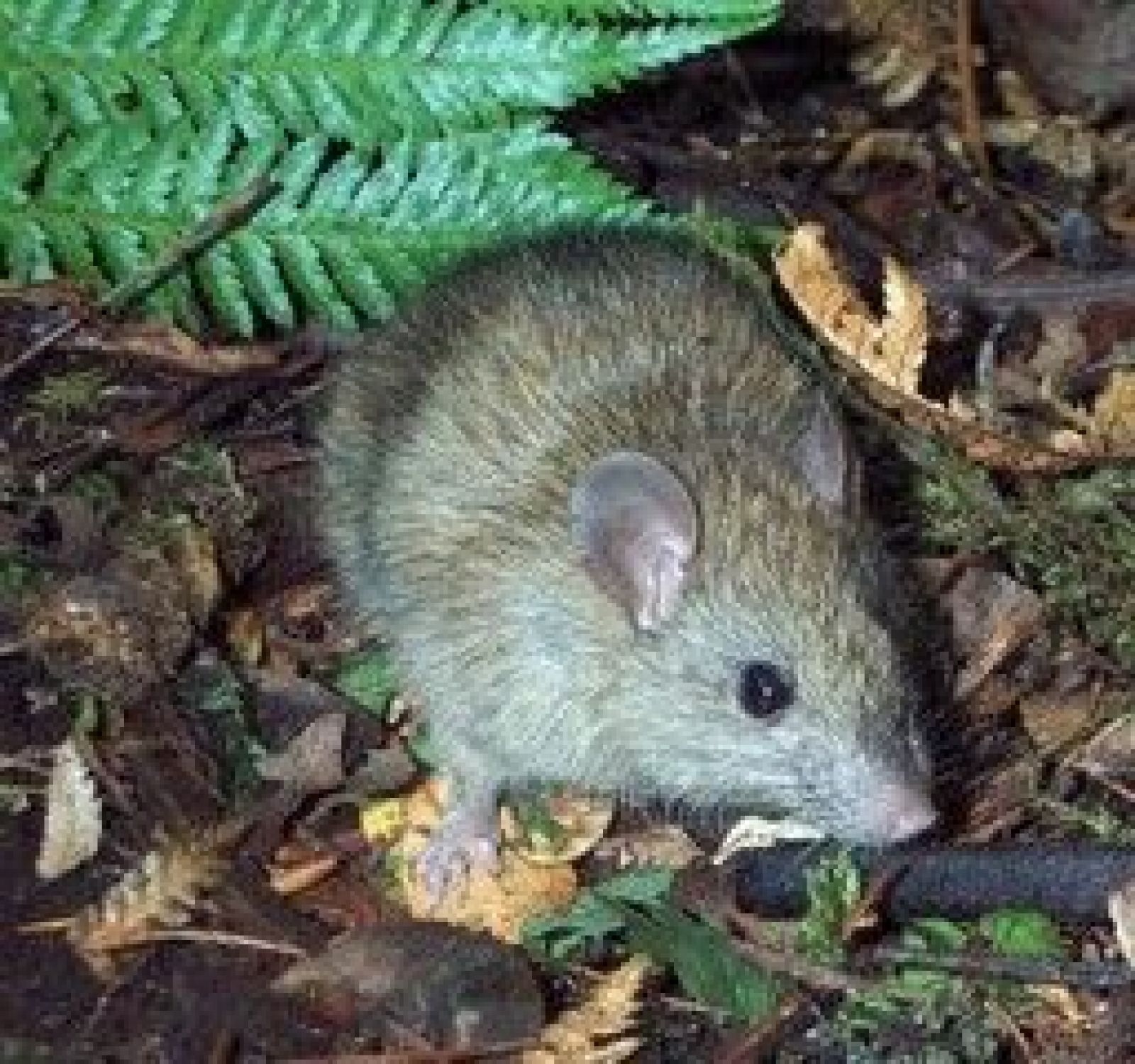 ship rat
Rats have a major impact on New Zealand's wildlife because they eat birds and their eggs and chicks, lizards, and invertebrates. They also eat a wide range of native fruits and other plant material, which puts them in competition with native wildlife for food.
Ship rats are causing the most damage to our wildlife because they are good climbers, so they are able to get access to most bird nests high in trees
Mouse populations fluctuate with the availability of food - in the Flora area this is driven by the amount of beech mast available. It has been known for mice to eat all the beech mast present in a forest.
Possums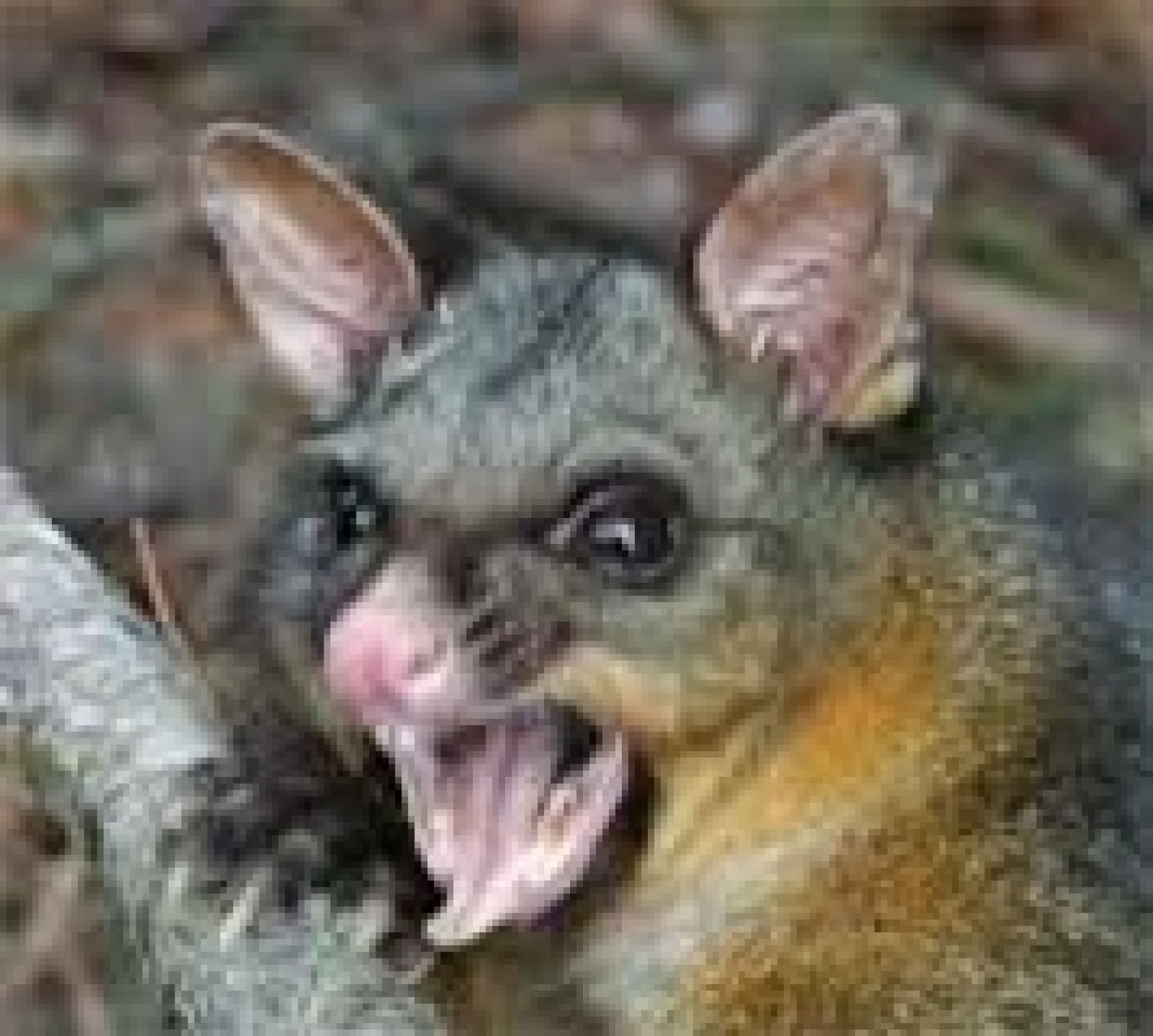 Possum
The Australian brush tailed possum was introduced into New Zealand in 1837 to establish a fur trade. It is estimated that the New Zealand possum population now tops 70 million and chomps its way through seven million tonnes of vegetation per year.
Possums have eaten whole canopies of rata, totara, titoki, kowhai and kohekohe. Possums compete with native birds for habitat and for food such as insects and berries. They also disturb nesting birds, eat their eggs and chicks and impact on native land snails.
Possum are also a carrier of bovine tuberculosis.
Control Area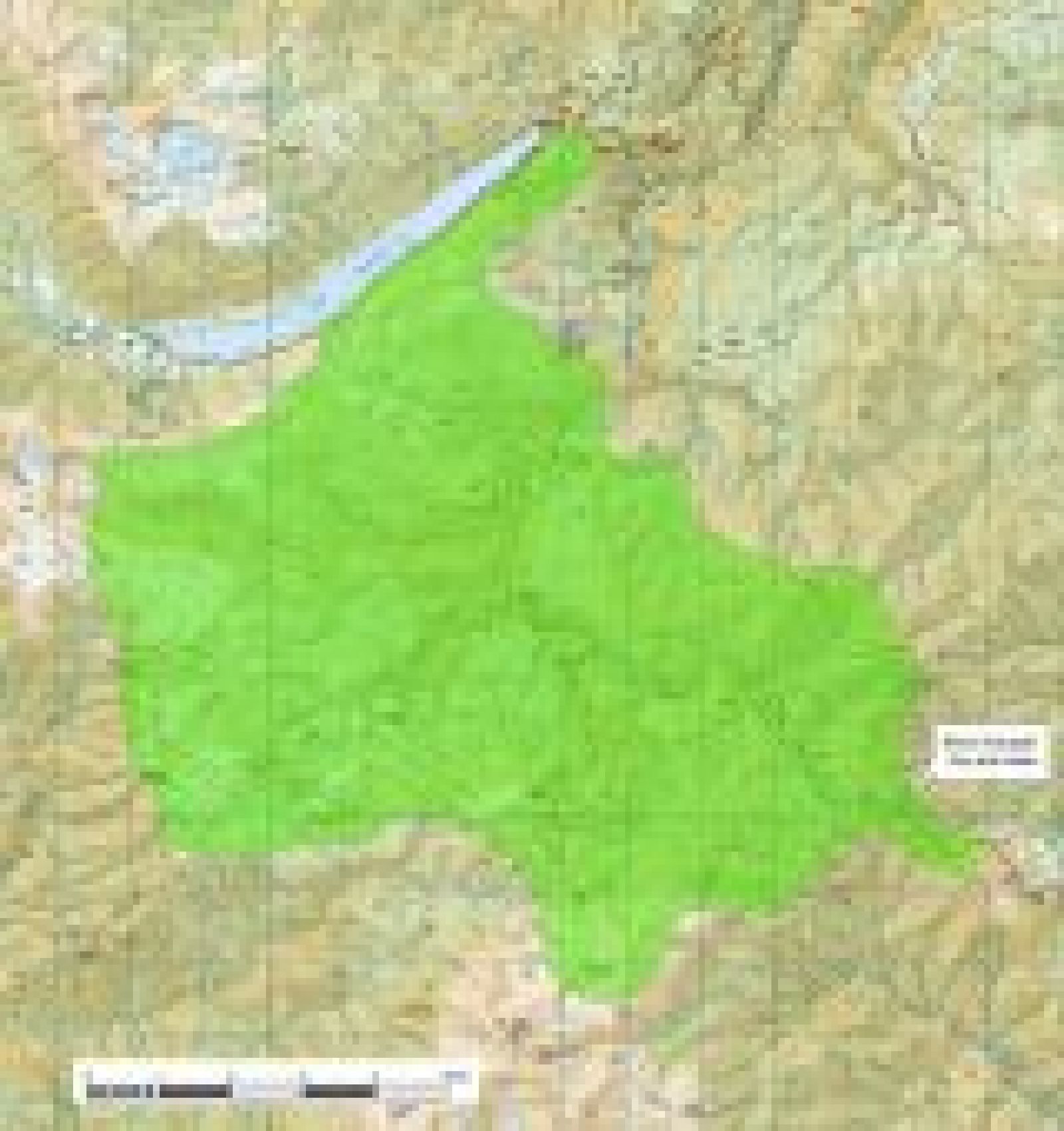 We work in conjunction with the Motueka Area Office of the Department of Conservation (DOC). Between us our trapping programme covers over 8,000 hectares. We have 22 trapping lines with 1125 trap stations placed every 100 metres (a total of 112 kilometres of trapping lines). FoF monitors 18 of these lines (most monthly) and DOC the remainder. Every station has a stoat trap, some also have a rat trap and/or a possum trap. No two trap lines are more than one kilometre apart. This is considered to be best practice for stoat control. Friends of Cobb and Bill & Maryann maintain adjacent traps networks in the Cobb valley. Between these projects, the protected area is greater than 10,000 hectares, making it one of the largest volunteer trapping projects in the country.
Traps & bait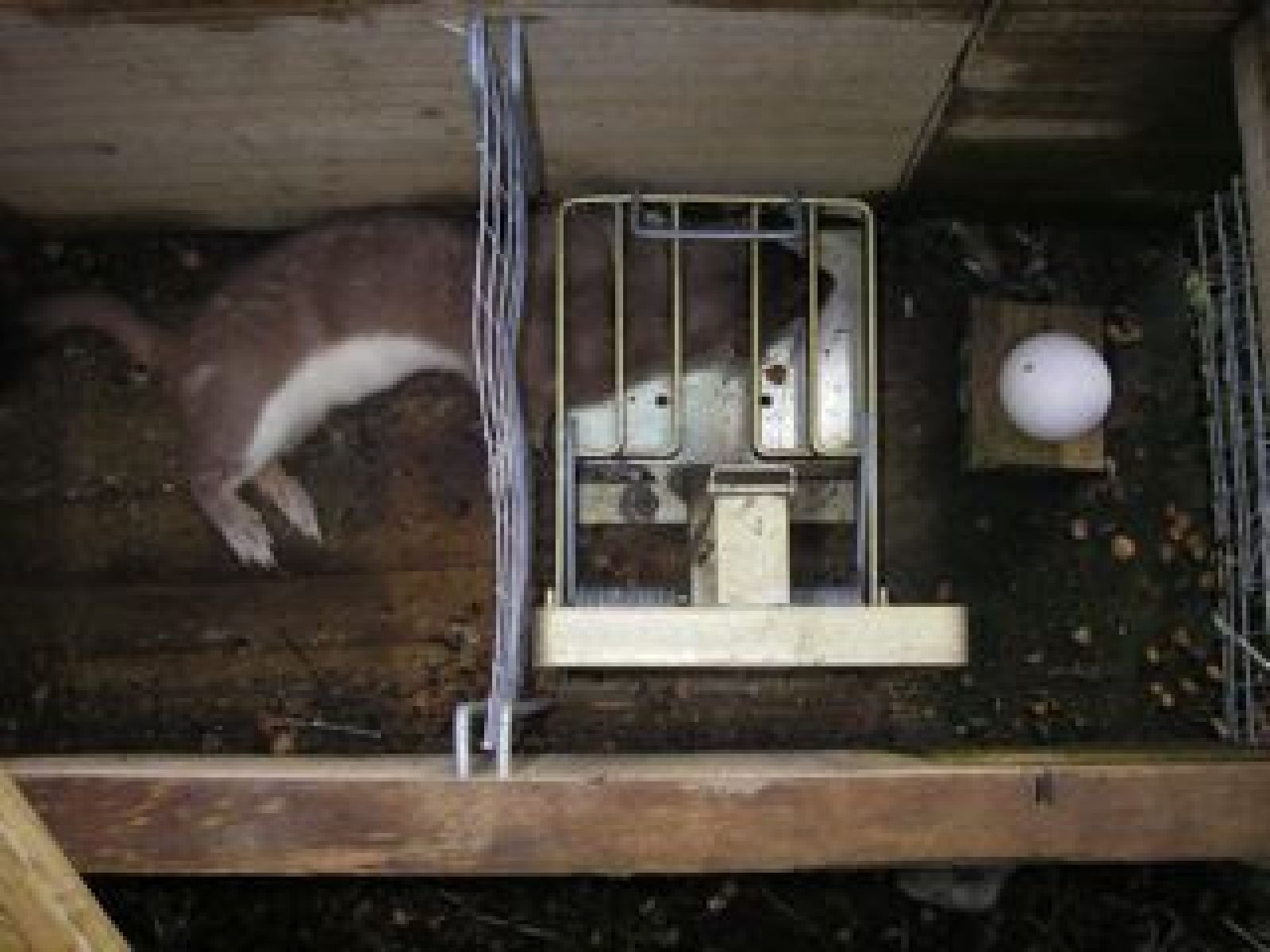 DOC 200 stoat trap
The traps we are using on the mountain are DOC 200's, and recently, some DOC 150's. All boxes are made to DOC current weka-proof and kiwi-proof specifications.
We are using mostly Victor rat traps for both the rats and mice, but we have been replacing them with plastic 'Snap-e' traps as the Victors age. We have found the wooden Victors swell in the damp weather and lose their sensitivity. The wire parts also have a tendency to rust, so this adds a further job for volunteers; having to clean and oil them. The plastic traps work as well as the Victors and are easier to set, making monitoring an easier and quicker job.
Friends of Flora's possum trapping is in conjunction with the possum control programme DOC has been running in the Flora since 1993 for the protection of the endemic Powelliphanta hochstetteri hochstetteri snails, birds and flora in the area